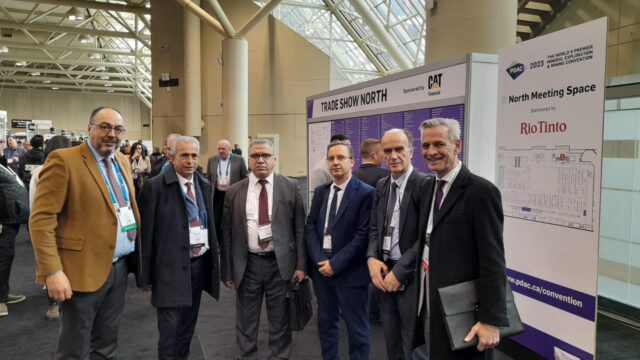 Accompanied by the  Council for Development Canada-Algeria (CDCA), and within the framework of the PDAC 2023 convention, a high level Algerian delegation met with many stakeholders of the Canadian mining sector. The delegates included Mr. Hanifi Mourad, Director of Mines at the Ministry of Energy and Mines, Mr. Harami Mohamed Sakhr, CEO of the Industrial Mining Group Manadjim El Djazair, Mr. Smail El Djouzi, CEO of the National Agency for Mining Activities and Ms. Tafer Bakir Karima, CEO of the Agency of Geological Services of Algeria, and Mr. Fekir Mohamed.
This visit marks not only the importance of the development of the mining sector and its positioning as a strategic sector for Algeria, but also the strong interest that Algeria has in the Canadian expertise and to build a sustainable commercial and economic relationship with Canada.
During this visit, the Algerian delegation met with The Hon. Mary NG, Minister of International Trade, Export Promotion, Small Business and Economic Development, Ms. Nathalie Dubé, Director General, Global Affairs Canada, as well as representatives of the Fraser Institute and the international firm Fasken.
The Minister of Energy and Mines, Mr. Mohamed Arkab, Algeria has confirmed the nation's interest in a strong presence at the PDAC 2024.
The Minister of Energy and Mines, Mr. Mohamed Arkab, Algeria has invites Canada to the call for expressions of interest for the exploitation of gold and marble already published, and for the next call for tenders in the field. The axes of the development strategy of the mining sector in Algeria are based on :
– The development of a high precision mining map defining the geological infrastructure.
– The exploration
– The exploitation
– The development of safe and sustainable solutions
– The development of skills and training"